Men's Closet Ideas & Tips
3 min read
Men's Closet: From Cluttered to Classy
When it comes to personal spaces in home interior designs, the closet often holds a special place. It's more than just a storage area. Moreover, your wardrobe interior design is a reflection of your style, personality, and daily routine. For men, having an organized, well-designed closet can not only enhance the room's aesthetic but also streamline their morning routine, making it easier to find the perfect outfit for any occasion.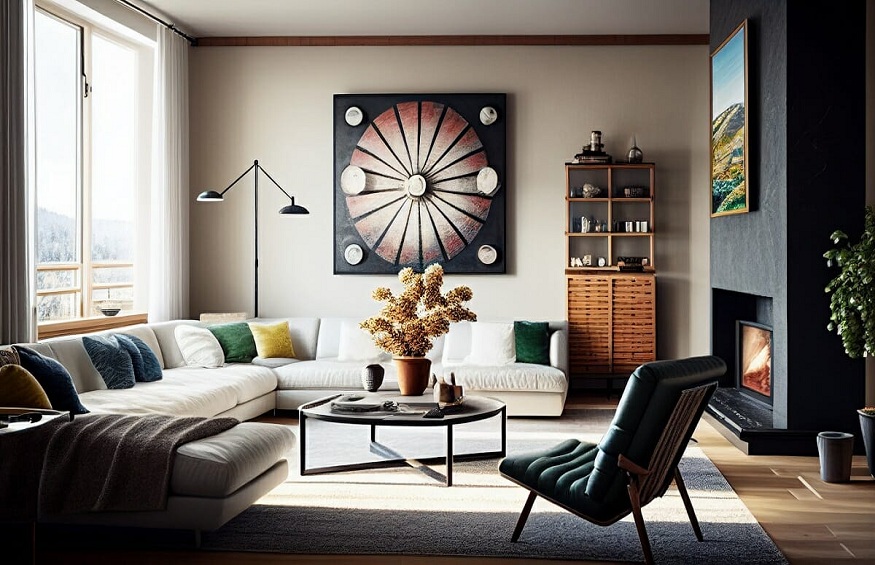 In this blog post, we'll explore a variety of men's closet home décor ideas and tips that maximize space, maintain organization, and reflect individual style. Whether you have a spacious walk-in or a compact reach-in closet, there's sure to be something here that will inspire you to give your wardrobe space the makeover it deserves.
Men's Closet Design
Ø  Stick to a neutral color scheme: A clean, minimalist palette of whites, grays, and blacks can add sophistication to your home interior designs and make your closet appear larger.
Ø  Diversify your storage: Utilize hanging rods, shelves, drawers, and bins to accommodate different clothing types and accessories.
Ø  Light it up: Install good-quality lighting that highlights your items and creates a warm, inviting atmosphere.
Ø  Add a dresser: If space allows, incorporate a small dresser or island for more storage and a surface to lay out outfits.
Ø  Uniform hangers: Use matching hangers for a streamlined, professional look.
Men's Walk-In Closet
Ø  Adjustable shelving: Install shelves that can be moved and adjusted according to your changing needs.
Ø  Comfortable seating: Include a bench or chair for convenience when dressing or putting on shoes.
Ø  Full-length mirror: A mirror is essential for checking outfits and can make the space appear larger.
Ø  Open and closed storage: Mix open shelves and closed drawers to display some items and hide others.
Ø  Hide the dirty laundry: Incorporate a stylish laundry hamper to keep dirty clothes organized and out of sight.
Men's Reach-In Closet
Ø  Maximize height: Use the full height of the closet by installing high shelves for seldom-used items.
Ø  Sliding doors: Opt for sliding doors to save space and avoid blocking access to nearby furniture.
Ø  Door storage: Utilize the back of the door for additional storage, like hanging organizers for shoes or accessories.
Ø  Good lighting: Install bright, clear lighting to make finding items easier.
Ø  Flexible system: Choose an adjustable closet system that can evolve with your wardrobe needs.
Men's Wardrobe Closet
Ø  Space for long items: Ensure there's enough vertical space in the wardrobe interior design for hanging coats, suits, and other long items.
Ø  Interior lighting: Add lights inside the wardrobe to easily find and select items.
Ø  Personal touches: Find and implement home décor ideas to decorate your closet with personal mementos or artwork to make it more than just a storage space.
Ø  Ample drawer space: Choose a wardrobe that includes drawers for storing folded items and accessories.
Ø  Mirror inside: Consider adding a mirror on the door for quick outfit checks and to save wall space
Men's Shoe Closet
Ø  Visibility: Use clear shoe boxes or open shelving so you can easily see and access all your shoes.
Ø  Off the floor: Keep shoes off the floor to protect them from dust and make cleaning easier.
Ø  Regular maintenance: Clean and organize the shoe closet regularly to keep it looking neat and fresh.
Ø  Shoe rack: Use a shoe rack or shelves to maximize space and keep pairs together.
Ø  Categorize: Separate shoes by occasion (casual, formal, athletic) or season to make finding the right pair easier.
In conclusion, creating an efficient and stylish men's closet involves careful planning and thoughtful wardrobe interior design. Regardless of the closet type, be it a walk-in, reach-in, wardrobe, or shoe closet, it's important to maximize space, ensure good visibility, and maintain organization.
Adjustable shelving, diversified storage solutions, proper lighting, and personal touches can make a significant difference in both the functionality and aesthetics of your closet. Remember, your closet should not only reflect your personal style but also cater to your lifestyle needs. With these tips, you can create a men's closet that is both practical and pleasing to the eye.